Joyful, passionate and energetic, 42-year-old Marisel Melendez commands attention when she walks into a room.
She converses eloquently in Spanish with her siblings as savory smells of fried plantains, papas rellenas and roasted pork waft throughout her café, Ponce Restaurant in Hermosa, one of Chicago's Puerto Rican communities.
Eventually, Marisel gathers the team together to pump everyone up and talk about goals for the day before opening the restaurant doors at 10 a.m. sharp on a warm Thursday this spring.
For Marisel, it's just another day at work. While many are still sleeping or are commuting to their office jobs, she is already hard at work at 8 a.m. after dropping off her two children at school and picking up last minute groceries for the jibarito sandwiches, fried chicken and other dishes she features.
She is the manager and self-proclaimed "everything" at Ponce, a family eatery with homemade Puerto Rican favorites located about 3 miles northwest of Humboldt Park and Chicago's famous Puerto Rican district "Paseo Boricua." Ponce is a family-owned food emporium that got its start 17 years ago when Marisel's mom and owner, Yolanda Melendez, turned her passion for home-cooked Puerto Rican delicacies into a business - at the request of the community.
"About 23 years ago, we did the Puerto Rican festival, but we did it from our home" Marisel says. "My mom got the booth, and then we did the once-a-year festival and everybody would say 'Where's the restaurant?'' and we would say 'Coming soon. Coming soon.'"
So after years of pleas, Yolanda settled on a location, talked her four children into helping her run the business, and opened Ponce Restaurant at 4312 W. Fullerton Ave. in 1998. Named for the city of Ponce, Puerto Rico, where Marisel's family lived, Ponce Restaurant opened to glowing reviews from the community and continues to be one of Chicago's most popular spots to find authentic Puerto Rican food.
"The support of the community - they're the ones that keep us here," says Marisel as she reflects on the restaurant's success. "It was just something to make money and my mom was such a great cook, so being from Humboldt Park and coming from nothing to having this is just, it's like amazing."
That is because Marisel, her three younger siblings and her mother worked from the ground up to get to where they are today.
"I was a year old when I came here with my mom from Puerto Rico" in 1974, Marisel says. "I was so young, but I know the community, the Puerto Ricans were already here when we got here, so I guess that's why it felt so homeland to my mom."
Marisel and her mom were just two of approximately 100,000 Puerto Ricans to settle in the Chicago area then. At that time, Chicago had become known as the second largest Puerto Rican community in the United States, thanks in large part to rumors about abundant employment opportunities in the city trickling south to Puerto Rico.
Like many Puerto Ricans who emigrated to Chicago between the 1950s and the 1980s, Marisel's father came first to secure housing and a job before sending for Yolanda and their young daughter. However, three more children later, Yolanda separated from her partner. Left suddenly with four young children to raise and support on her own, Yolanda initially struggled to make ends meet.
"My mom was a single mom," Marisel says. "There were three of us sleeping in a full size bed and one with her in another bed. She had to work her way up, and it was really her food that helped her take care of us."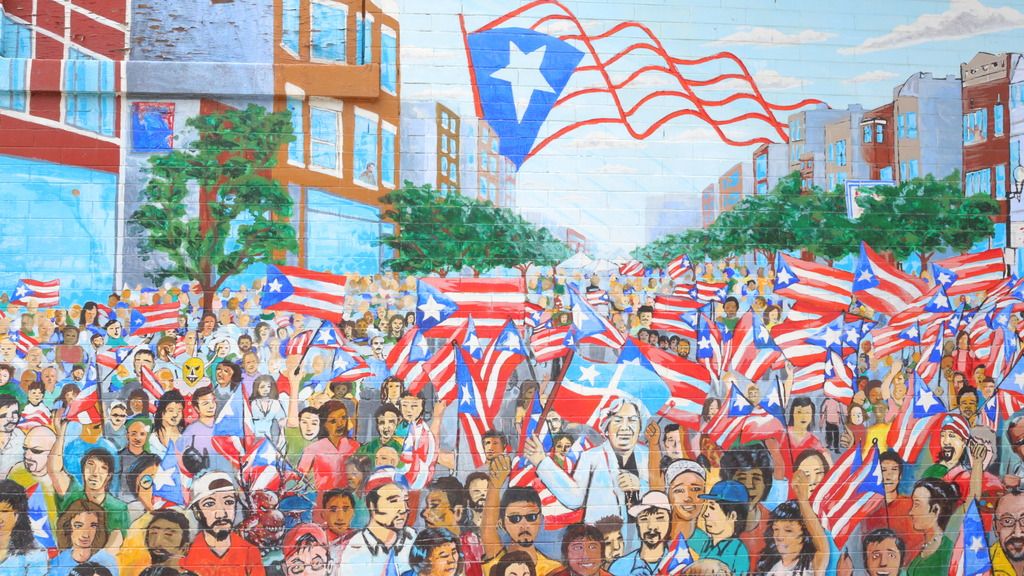 So when Marisel's mother opened Ponce Restaurant years later and needed her children to help cook and manage the front, Marisel, her two sisters and her brother immediately agreed to pitch in. Fast forward 17 years, and the four siblings are still working full-time for their mom.
"It's important to have the food that comes close," Marisel says, "and our mom has sacrificed everything for us. That's what keeps us going. That's why we're all still here, because we enjoy doing it every day for mom."
In fact, Marisel insists that the family lives more at the restaurant now than they do at home.
But her commitment to the restaurant hasn't stopped her from noticing how things have changed throughout the neighborhood since she moved to Hermosa 41 years ago.
Although her family continues to live in the Hermosa and Humboldt Park parts of Chicago since emigrating from Puerto Rico, she admits that they are the minority. Many families have chosen to move to other parts of Chicago after initially settling in the Paseo Boricua area.
"We're like dinosaurs or extinct," Marisel says. "We're not here no more. We have one here, one here and one here."
According to Marisel, Puerto Ricans started leaving the neighborhood once the elders and first generation immigrants began to die and retire. At that time, the younger, American-born generations, who were less connected to their Puerto Rican heritage, began assimilating and seeking opportunities outside of the immediate community.
This is because of gentrification and because Puerto Ricans were seen as a "model minority," says Gina Perez, an anthropologist and associate professor at Oberlin College.
"By the late 1950s and 1960s, Chicago media consistently praised its Puerto Rican residents for their strong families and for their ability to earn comparable wages to European immigrant groups," Perez says. "So rather than come together as a group and unite first and foremost as Puerto Ricans, they began to assimilate and to focus less on their community."
The city's efforts to gentrify Hermosa and other predominantly Puerto Rican neighborhoods in the 1990s in order to improve the appearance of the area reinforced the trend.
However, many Puerto Rican Chicagoans fought to preserve their culture. On June 12, 1966, the community was able to successfully create and start the first Fiestas Puertorriquenas, or Puerto Rican Festival, an annual tradition that has faced cancellation threats for years due to its notorious fights that break out.
In 1974, Paseo Boricua residents managed to convince city officials to reopen an abandoned school and rename it Roberto Clemente High School after the famous Puerto Rican baseball Hall of Famer. Even as recently as 1993, residents won a battle with the City of Chicago to erect two steel Puerto Rican flags at the ends of Paseo Boricua. The two flags, which have towered over Western and California avenues on Division Street since 1995, are the largest monuments to a flag in the world, as well as the largest flags not made of cloth.
Recognizing these milestones by Chicago's Puerto Rican community, Marisel echoes this belief in a clear presence still felt in Paseo Boricua and Hermosa despite many of her peers migrating to other parts of the city.
"There's still a lot of people," Marisel says. "It's still considered our Humboldt Park, our Puerto Ricans here."
And it is those Puerto Ricans who Marisel, Yolanda and the rest of the family cater to at Ponce Restaurant.
"If you don't go to Puerto Rico, it means a lot to have the traditional foods that come close," Marisel says. "You miss that as a Puerto Rican. We want to remind you of grandma's home cooking from Puerto Rico. I've had someone say to me 'It's like mom's cooking' and that's what we want. We want to remind people of home."
Yelp reviewer Andrea B agrees.
"Ponce takes you back to the island!" Andrea says. "Everything is authentic just like abuela, or grandma, makes it. Best Puerto Rican food in Chicago!"
That is why Marisel and her family will continue to work day in and day out, 8 a.m. to 10 p.m. to serve great Puerto Rican food to others within the community.
And although the restaurant rarely closes its doors, Marisel and her family do take time off each year to watch Humboldt Park's annual Puerto Rican People's Parade.
An event that comes at the heels of the Fiestas Puertorriquenas, the Puerto Rican People's Parade is one of the largest Latin events in the country and features a variety of floats, costumes and music.
This year's parade will kick off at noon on Saturday, June 20 and will move down Division Street from Western to Sacramento avenues.
"It's a tradition. We expect it," says Marisel when describing the parade and why it's important despite its ongoing security challenges. "It gets crazy and stuff and wild but that's us, that's Puerto Ricans."
"We're loud and we're proud," Marisel continues. "We cannot tone it down."
photo source. Lee Won Park/Medill